Flutter CRM templates can be found in various online marketplaces, developer communities, or open-source projects. They serve as a starting point for developers to accelerate the development process of CRM applications while leveraging the cross-platform capabilities and UI flexibility provided by the Flutter framework.
By using a Flutter CRM template, developers can save time and effort in designing and implementing the basic structure and user interface of a CRM application. They can focus on customizing the template to meet the specific needs of their business or client, such as integrating with backend systems, adding additional features, or tailoring the UI to match the brand identity.
A Flutter CRM (Customer Relationship Management) template is a pre-built software application or codebase that is designed to help developers quickly create CRM-related applications using the Flutter framework. Flutter is an open-source UI toolkit developed by Google for building natively compiled applications for mobile, web, and desktop from a single codebase.
Table of Contents
Onest HRM Human Resource Management System App and Website | Flutter CRM Template
To simplify HR procedures, enhance data management, improve decision-making, and promote collaboration, HRM software is required. It centralizes and automates HR tasks, offering insightful analytics and insights, and promoting collaboration and teamwork among HR personnel.
Features:
Employee Management
Leave Management
User & Roles Permissions
Attendance
Expense Management
Visits
Team Management
Support
Announcement
Project Management
Task Management
Client Management
Setup
Reports
Onest CRM – Multiple Platform
Set up your Official Meetings with both your Clients & Employees in a Video Conference. There is no limit on the duration of Meetings and the number of participants. Amazing features such as Annotation, Screen Sharing, Unlimited Recording, and much more. You can integrate your existing App and/or Web Panel.
Features
Perfect management for:
Clients
Sales
Income
Meeting
Purchase
Projects
Visit
Employee
Accounts
Attendance
Tasks
Stock
Leave
Support
FieldManager | Field Employees GPS Real-time Tracking, Attendance, payroll System (.NET 6 & Flutter) | Flutter CRM App Template
Field Manager: Field Staff Activity Tracking and Self Service, An advanced field executive staffs automatic attendance management and real-time tracking software build with .NET 6 and Flutter Full Application. This application can track physical Activity, GPS Location (In Real-time), Wi-Fi Status, Battery Status and GPS Status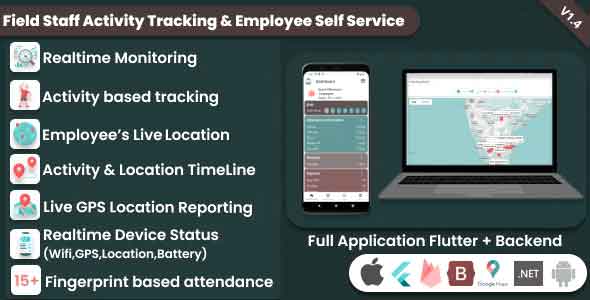 Features:
Real-time Monitoring
Live GPS Location Reporting
Built in Team Chat
Leave
Management
Employee's Activity based tracking
Activity & Location TimeLine
Real-time Device Status (Wi-Fi, GPS, Location, Battery)
Employee's Live Location
Device Verification
Reports in Excel
Clients Management
Daily attendance Management
Expense Management
Team Management
Firebase push notification
Fingerprint Pin based attendance
Automatic Travel distance calculation
Maan I HRM Employee Flutter UI Kit | Flutter CRM Template
As the name implies, the MaanHRM Employee Flutter UI Kit is a commanding and potent collection of Flutter UI kits that includes complete app templates, ready-to-use widgets, code snippets, or ready-made code integration, and stunning screens that cover a wide range of use cases. Modern material design is included in the largest Flutter UI kit.
MaanHRM Employee UI templates are made with the best materials, making it simple to reuse widgets and have a completely user-friendly interface.
These are simple to incorporate into any Flutter project. The task of giving the mobile application a contemporary look and feel is made simple for developers by MaanHRM Employee UI Kit. The effort and time required to create a perfect user interface (UI) for mobile applications for modern use are reduced.
Features:
An organized project with clear code
iOS and Android share the same code base.
60 FPS Support for both Android & iOS
UI that is totally adaptable
Best UI and UX
Excellent animation.
Customization is simple.
Free lifetime updates and outstanding customer service
Simple to integrate into your project