Today we will learn all the aspects of flutter developer salary in India, Canada, US for Freshers and Experts.
One of the most well-liked cross-platform frameworks for creating mobile apps is Flutter. The Dart-based framework enables programmers to produce stunning and quick apps for Android, iOS, and the web using just one set of code. Since its debut in 2017, Flutter has steadily gained popularity as more developers pick up Dart and more companies choose it for their apps.
Being a framework that aids in the development of cross-platform applications, Flutter helps organizations reduce development costs and save time, which is one of the reasons why Flutter developers are in high demand in businesses that use it.
Table of Contents
How much does it actually cost to create an app using Flutter?
The total cost includes costs for developing the app's features, creating its visual aesthetic, renting servers, and, of course, paying the programmers' salaries. In this article, we'll examine Flutter developer salary in India, Canada, and the US and the factors that influence it.
Flutter Developers: Who Are They?
Flutter is an open-source UI software development kit that can be used to create both Android and iOS apps.
A Flutter developer uses Flutter to create cross-platform applications.
Those who are knowledgeable and skilled in software and application development can enroll in programs or find employment with a company that will help them develop expertise in Flutter development.
Flutter Developer Salary In India, Canada, US
Salary of a typical Flutter developer
Location and level of expertise are the two main determinants of a software developer's salary.

If a startup or small business has the option to hire skilled professionals from other parts of the world for 3–4 times less money, it may not be the best choice to hire a developer in the US, where the hourly rate for a Flutter developer can reach $150.
On the other hand, Ukrainian developers make an average of $37 per hour, despite the fact that their programmers are among the best in the world. Another illustration is the difference between the annual salary of a Flutter developer in Canada and the Philippines, which is only $11,000.
Because of this, hiring remote developers from Eastern Europe, Asia, and South America is advantageous, despite potential disadvantages like time zone, linguistic, and cultural differences. Read more about where to find software developers in our specialized study.
According to their experience level, Flutter developers can be divided into three major groups, just like other programmers.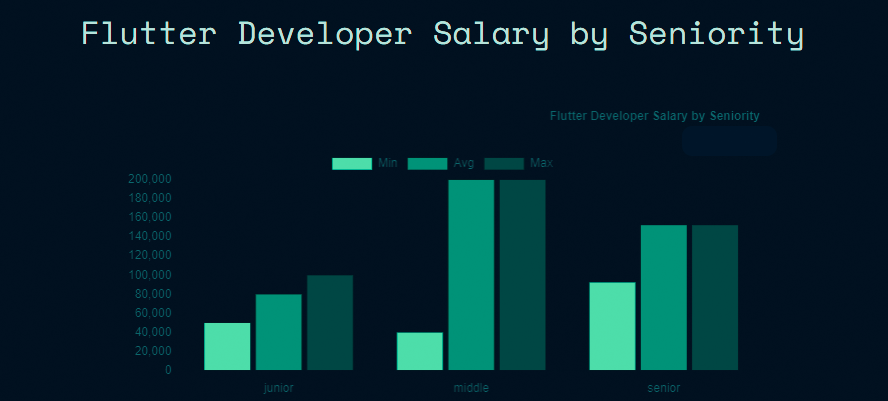 For Freshers
Junior developers have at least a basic command of English and have approximately a year of experience writing Dart code. They are also familiar with Flutter third-party libraries.
They can collaborate on less essential facets of the app, like helping with initial project planning, developing features that senior programmers have already defined, and addressing minor bugs.
People, who read this article also read: Flutter Liquid Swipe Animation
For Mid-Experts
Middle specialists typically have 2–4 years of experience creating iOS and Android applications. They are proficient with Jenkins, Git, and automated testing. Mid-level developers can be trusted to work on larger chunks of code at once and can help junior developers by looking for bugs, improving the code, and planning tests.
For Senior Experts
Senior developers are experts with more than five years' worth of experience. These programmers have knowledge of app optimization for Swift and Material Design; they are capable of managing the entire development cycle, from initial planning to app deployment, and their extensive experience aids in managing complex issues and producing desired results. Senior developers frequently oversee a group of junior and intermediate developers, establish goals with them, and act as mentors.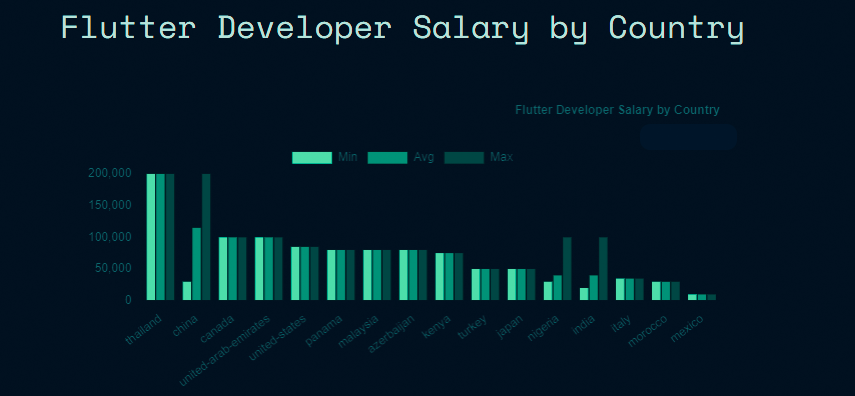 Salary of a Flutter Developer in the US and Canada
Over the years, Flutter has grown in popularity, and most developers who have some background working with a comparable framework, like Dart, begin their careers in entry-level positions. An entry-level Flutter developer in the US is thought to make around $70,000 a year on average.
Beginners or entry-level professionals are likely to make almost twice as much as mid-level professionals with some experience in Flutter development for Android and iOS, along with testing and automation. In the US, the average yearly salary for mid-level Flutter developers is around $120,000.
At advanced levels, Flutter developers have the knowledge and abilities to not only use the framework effectively and with few mistakes, but also to take on additional responsibilities like managing projects and teams, taking on leadership roles, and working with and directing various other teams. As a result, with time under your belt as a Flutter developer, you can anticipate a raise in pay and a change in your position and job description. Advanced-level Flutter developers in the US make an average of about $150,000 per year.
Indian Flutter Developer PayScale
Flutter is already having a significant impact on the IT sector thanks to its many benefits.
A Flutter developer starting out might receive a base salary of INR 1.3 lakhs. However, the typical pay for Flutter developers at the entry-level is INR 4 lakhs.
Your location is yet another aspect that could affect how much money you make. Cities like Bangalore, Pune, Gurgaon, and Mumbai are more likely than smaller cities to have IT companies that offer higher salaries.
The wide range of salaries for beginning developers can be attributed to a number of factors.
First off, depending on their prior experience and skill set, Flutter developers' pay varies greatly.
Additionally, it depends on the organization and the roles and duties assigned to those roles.

People, who read this article also read: Flutter SDK Installation on Windows, macOS, Linux
Conclusion
This article sheds light on the topic of Flutter Developer Salary in India, Canada, US.
The experience and location of the specialist have the biggest impacts on the flutter developer's salary in India, Canda and US. Depending on the required skill set and location, there are many programmers available due to the technology's steadily increasing popularity.